Wagon Wheel Directory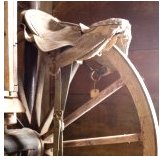 Not every Wagon Wheel, is created equal, like everything else in life, there is the quality of the wood and metal that goes into the Wagon Wheel. But most important of all is the quality of the workmanship of the wheelwright and the shop members.
The Wagon Wheel is a very important part of American History, without the Wagon Wheel, America would not have been populated, the Mormons would not have made it to the Salt Lake, and there would not have been a Wells Fargo.
The Amish do not sell Wagon Wheels on the Internet, the real Amish do not use computers, they do however, sell to non-Amish people (resellers) who resell the products the Amish make on the internet. Also it is important to remember, not all products that are listed and sold on the internet as Amish made, are made by the Amish, in other words, buyer beware!
Below are are a list of companies that sell Wagon Wheels, as well as western, rustic, or country decor related items.
Sites To Find A Wagon Wheel
Fifty (50) years of Wagon Wheel making, family owned and operated business, member of the Better Business Bureau and a Veteran Owned Business. Wagon Wheels, Horse Drawn Wagons, Cannon Wheels, Carriage Wheels, Wagon Wheel Chandeliers, Wood Buckets and Wood Butter Churns.