Wagon Wheel Directory, About Us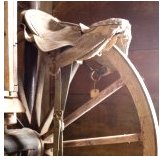 Wagon Wheel Directory to help people find web sites that have a Wagon Wheel for sale, Cannon Wheels, Steel Wagon Wheels, Wagons, Western, Rustic and Country decor. We do not make recommendations on sites; we do our best to give an accurate description of what the site is about, however, you will have to make your own decision concerning the sites.
If you have a site you would like to see listed on Wagon Wheel Director, Contact Us. If you have a comment about a site that is listed on Wagon Wheel Directory, send us your comments about the site or post the rating on the site.
We recommend that you look for a site that is a member of the Better Business Bureau or a site that has posted comments from their customers and has been in business for enough years to be a stable business.
As you would with any business, make sure that you speak with someone at the business and ask questions until you feel secure in making a purchase from the company. As we have stated before, they do however, sell to non-Amish people (resellers) who resell the products the Amish make on the internet. Also it is important to remember, not all products that are listed and sold on the internet as Amish made, are made by the Amish, in other words, buyer beware!
Home | About Us | Wagon Wheel Information | Contact Us |